WELCOME TO I Am the Real One WIKI
Novel Manhwa Recent Changes Images
Welcome to the I Am the Real One Wiki, a Wiki dedicated to everything about the manhwa, I Am the Real One, that anyone can edit. Please help by creating or editing any of the articles! We currently have 1,197 edits to 55 articles and 139 images on this wiki.
STORY
I Am the Real One is a Korean Web Novel later converted to Manhwa covering Fantasy, Romance, and Reincarnation genres.
Original story by Sam Wol
Original character design by Dwaeji Cake (돼지케이크) (twitter)/ (website)
Art by Yuwoon (유운) (twitter)
---
A prophecy foretold that the Grand Duke would only have one water elementalist born from him. Though she lacks her father's affection, Keira knows she's destined for those powers. But after years of doing what was right and proper of a noble, she's executed after the conniving Cosette appears, claiming to be the Grand Duke's real daughter. But then—Keira wakes up with newfound purpose: make changes, allies, and even friends before it's too late. Will it be enough before Cosette hatches her plot?
---
사실은 내가 진짜였다 (Korean name)
Actually, I Was the Real One (Alternative name)
KAKAO

Foxtoon

Ridibooks

KakaoPage

Lezhin

Naver

---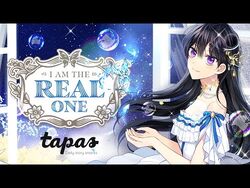 Keira tried so hard to receive her father's love. Then, a girl named Cosette appears, claiming to be the real and only daughter... and Keira is executed on the account of being a fake.
Keira should've died but instead, she wakes up in the past before Cosette ever appeared. Will she be able to live a different life this time around?